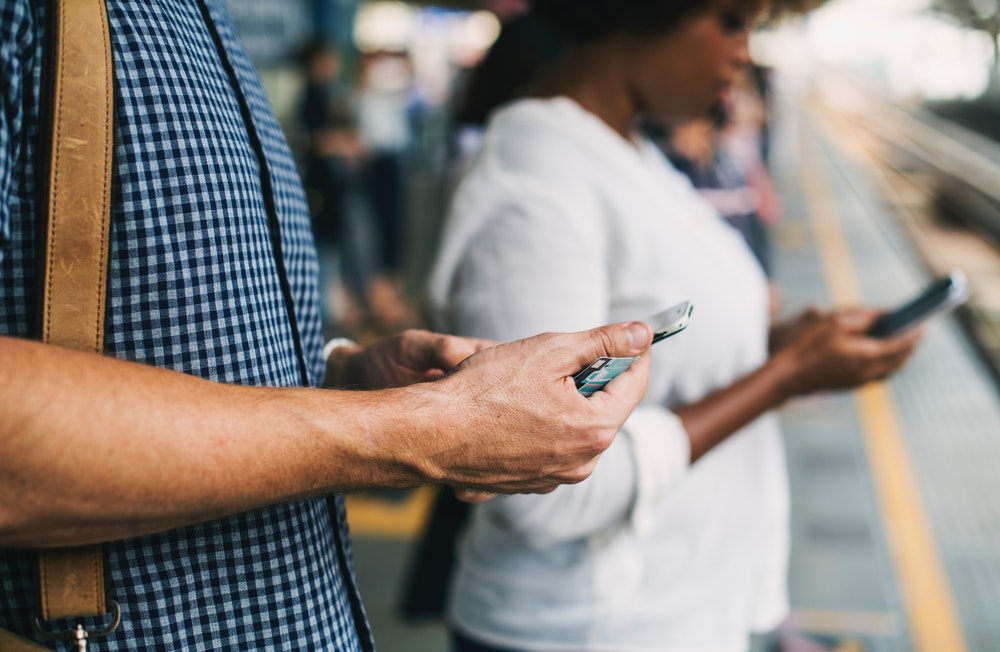 How to Optimize Data Usage in Mobile Apps
We are from the dimension where all of us have witnessed that earlier mobile plans were all about the call rates per minute and text messages were all you had. But with the rapid advancement of smartphones and data plans in the past few years today we have unlimited plans for mobile data, calls, and messages. But now the struggle is changed and we have another serious concern which is to optimize our data usage.
The steps to optimize data usage in mobile applications
In broad terms data usage also refers to the consumption of internet bandwidth by uploading and downloading. As mobile data is expensive, it is always better to make sure that we are not using it unnecessarily. In this article, we will learn to adjust a few settings and to safeguard our data usage.
Restriction of background data consumption
Let's understand this with an example, imagine if you have to search for something from your browser but do not want to use your mobile data for the applications running in the background like WhatsApp or Facebook. This will enable the browser to use the data while background applications will not. In order to perform these settings on your Android phone go to-
Settings> data usage

Select settings

Follow "restrict background data"

Select the option.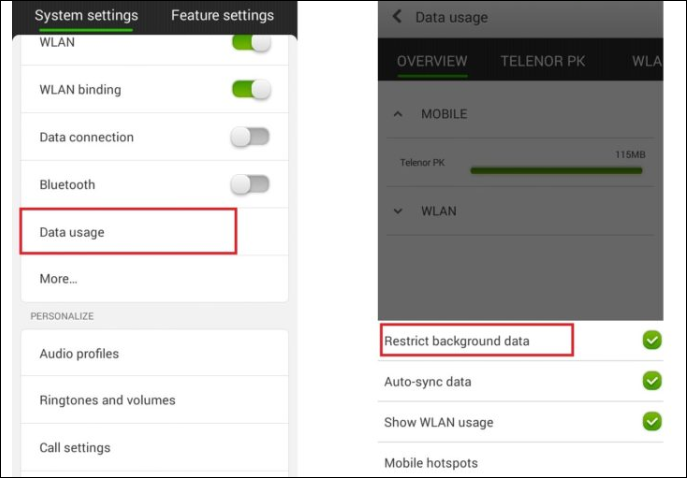 Set data limitations
The other restrictive feature you can apply factor which you can put is setting the data limit in your device as it will immensely help you with the purpose. Another benefit it covers is you will also get to know which application is using more data and which one is using less. In order to set this-
Go to settings and then "cellular networks"

You will see a list of charts

Set the pins as per your preference and it's done



Switching to the network
This is the best and easiest way to reduce data consumption in your mobile. You can easily switch your 4G mobile network to 2G. This will also help you stop the fast internet access where you do not want any interruption. Follow the steps-
Go to settings and then "more"

'Mobile networks' will appear, select network modes.

Once you made a selection now you have to select the SIM where you want to access the desired network.

You can make your option with 2G/3G/4G modes.
Restriction of the app from using data
This option is readily available for you to choose where you can select some applications and check over its updates. This will also enable you to stop the auto updation through the mobile network. In order to save the data, you can enable the setting with Wi-Fi for other networks. If you want to enable the auto-update setting whenever you are connected to Wi-Fi network follow the steps-
Go to settings and then auto-update apps

Now select "auto-update only over Wi-Fi"

once you make the selection it's done and whenever you are connected to Wi-Fi networks auto-update will be carried out in your mobile
The most varied options available to reduce the data usage
There are plenty of options available where it is not a tough fight for you to reduce the data usage limits and you can achieve it easily. As we have already learned the technical dimensions now let's see through the most sorting options available to reduce the data usage on mobile applications.
You can subscribe to the offline streaming options
Each and every one of us agrees that videos drain the mobile data as fast as any other application could. As there are indefinite sources through which you can easily get access to the videos, make sure that you have subscribed to the offline options among them. The other option you can choose is to download them whenever you are available to other public networks or Wi-Fi.
Alterations with browsing
We all are fond of desktop versions of the websites but it is not going to help you if you are on data saving mode. Another perk is, even if you have adequate storage in your phone browser cache will help you from the unnecessary download of the images from frequently visited websites. If you are browsing through chrome then you have an option to choose the data settings. From the three dots on the top right corner menu, you can choose 'settings' or 'data saver' from it. It will automatically modify and compress the page prior to the download. If you do not want all the steps then you can directly browse with Opera mini which is designed to reduce the data consumption while browsing.
Data alerts and notifications
The best option which will save you from unnecessary headache is setting the data alerts and limits. On your phone, you can easily set the alerts and limits by following the network settings. Here a table will appear on the screen where you will learn about the data usage for any time period in your device. For this set the data and then move the pins in order to fix alerts. Whenever you are near the limit pins will signify the threshold where your device has to shut down the mobile data. This will help you conserve the remaining data or limit for a day.
Maximize Wi-Fi usage
You don't need to justify when using Wi-Fi is your priority. You can access it either at your home or at the workplace including public domain as well like malls, supermarkets, parks or any departmental store. In order to connect to these networks, you have to initially agree to the terms and conditions for the first time a letter to it your mobile gets automatically connected to the Wi-Fi network. All you have to do is develop a habit of using the Wi-Fi network wherever it is possible and this will help you substantially drop the mobile data. Its compliance is Wi-Fi hotspots which are also very easily accessible.
Disable the push data
Push content or push data is automatically generated or moved into your phone without actual interaction. It is not a major hurdle but still troublesome for the people having normal data limits. You can easily disable it in your device by following account settings and then sync.
Other than this you can also-
Download large files over Wi-Fi

Turn off cellular data whenever not required

Turn off the unnecessary notifications for apps

Set long update intervals for home screen widgets
Conclusion
Under general circumstances of adequate data, you don't feel the difference of data optimization but in case you have a shortage of data package then it is wise to use it precisely. We can say for sure that there are other tricks also around the belt, hope this helped.